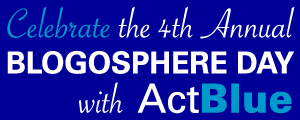 Late in the evening of October 23, 2004, I coined the term Blogosphere Day. At the time, I was directing the online campaign in PA-08 for Ginny Schrader (D-Blogosphere) and was trying to do anything possible to hype her campaign. Little did I know what would become of a two minute entry on dkosopedia.
To be perfectly honest, I'd forgotten about it until it showed up in the National Journal just as Tim Tagaris and I were plotting on when to kick of the online fundraising for Paul Hackett. The rest, as they say, is history.
Today, there has already been $16,395 raised online for ActBlue. Yet if every US Senator who has applauded the event were to max out, that number would triple.
A couple of other thoughts on the tradition and on teamwork…
First, residual effect:
2004 – PA-08
Ginny Schrader raised $89,765 across all ActBlue pages
2006 – PA-08
Patrick Murphy raised $165,931 across all ActBlue pages (and won!!!)
Now, even the Bucks County Democratic Club (heart of PA-08) is on ActBlue having already raised $1,630 from 77 people.
In 2005, Hackett coming so close was major news with even Newt Gingrich scared of the blogosphere while the netroots were winning awards. Yet in 2006, in the same district, Vic Wulsin did even better than Hackett and we're going to win the seat this year.
I think that ActBlue is the most critical piece of infrastructure in recent years. While it helps bloggers to do things like Blogosphere Day and raise a $100K for Dean upon him winning the DNC Chair race, it also provides the infrastructure necessary for US Senators to raise money like they did for Tim Johnson last quarter.
So tonight, reflect back on all we've done, Act Blue, and appreciate what we can do when we work together.