Watch the first Yes on 8 TV ad here.
Or here:
Contact: Sonja Eddings Brown, Protect Marriage, 916-446-2956
SACRAMENTO, Calif., Sept. 27 Christian Newswire — The following news advisory is submitted by ProtectMarriage.com:
Who: ProtectMarriage.com – Yes on Proposition 8 Campaign

Campaign Managers Frank Schubert & Jeff Flint
What: Press Conference to reveal the first Yes on Proposition 8 television ad
Where: Offices of Schubert Flint Public Affairs

1415 L Street, Suite 1250

Sacramento, CA 95814
When: Monday, September 29, 2008

11:00 AM
Notes: Yes on Prop 8 Campaign Managers Frank Schubert and Jeff Flint will unveil the first in a series of campaign commercials designed to educate voters about the critical need to pass Proposition 8, which will restore traditional marriage to California.
Additionally, Professor Richard Peterson of the Pepperdine University School of Law, who appears in the ad, and Mr. Andrew Pugno, counsel to ProtectMarriage.com, will be available to answer questions.
Most importantly, I've still got stacks of this old flyer lying around and I was just wondering if this might not be the last chance to hand them out?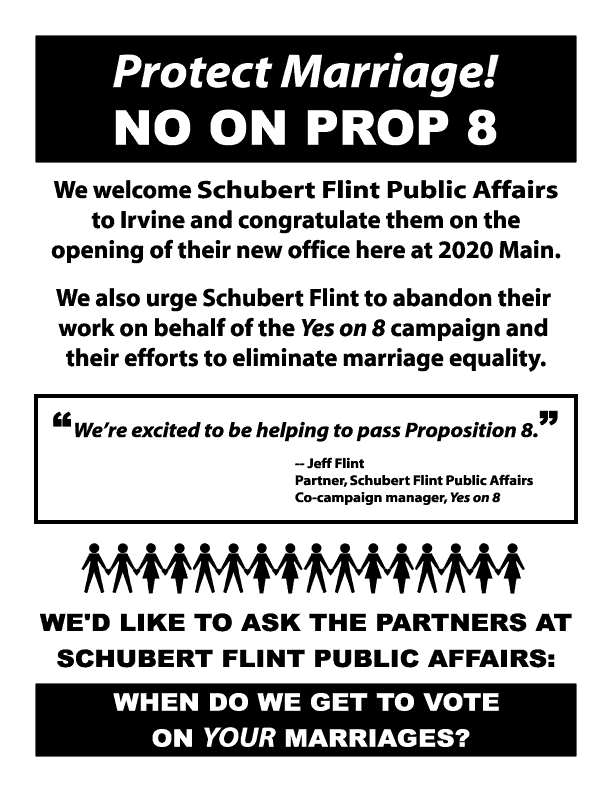 Two more upcoming events on the Prop 8 calendar:
October 1 (Wednesday) – The Fine Line Rally Satellite Broadcast (Evangelical rally for Prop 8). 7:00 PM PST.
October 8 (Wednesday) – LDS Church Satellite Broadcast regarding Proposition 8. 7:30 PM PDT.
Dear Brothers and Sisters:

October 8, 2008 Satellite Broadcast re Proposition 8

On Wednesday, October 8, 2008 at 7:30 p.m. PDT, there will be a satellite broadcast regarding Proposition 8 to stake centers throughout California. General Authorities and others will speak during the broadcast. We ask that the following please be invited to attend: stake presidencies; bishoprics and branch presidencies; stake, ward and branch Relief Society presidents; and all members working in grassroots support of the Proposition 8 campaign.

In addition, we ask that a special invitation to attend the broadcast be extended to young single and young married adults. With only this coming Sunday to make this announcement before the broadcast, we ask that you please ensure that this invitation is personally extended to all who are invited. We greatly appreciate your support of this most important matter.

Sincerely,

L. Whitney Clayton

Presidency of the Seventy
I wonder if the October 8th satellite broadcast from Salt Lake City will include yet another declaration of LDS political neutrality?
At what point does the Mormon leadership's continued insistence that Proposition 8 is a "moral"–rather than "political"–issue begin to ring so hollow with so many California voters that it will indelibly taint public perception of the LDS church long after it has helped trigger a massive rejection of Prop 8 on Nov. 4th?
I mean, c'mon, everywhere one looks, it's nothing but GOP operatives running the Yes on 8 effort.
Just today, when Frank Schubert, the Yes on 8 campaign manager, invited me to pop over and check out his campaign's first TV ad, here's what I found:
If you go to the ProtectMarriage.com website and click on "First TV Ad" on their front page, it takes you to this site to view the clip:
https://www.icontribute.us/protectmarriage/initiative/firstadweb
Well, I'd never heard of icontribute.us before, so I thought I'd find out who runs that site:
Registrant Name: Patrick Ruffini

Registrant Email: [email protected]
So, then I popped over to www.patrickruffini.com to learn a little about Patrick, and this is what I found …

Patrick Ruffini is an online strategist dedicated to helping Republicans and conservatives achieve dominance in a networked era … Ruffini currently advises Republican candidates and organizations on mastering new media, with a disciplined focus on Web site, e-mail, and blog strategies … From 2005 to 2007, Ruffini served as eCampaign Director at the Republican National Committee, overseeing the Party's online strategy for the 2006 election cycle … In the 2004 election cycle, Ruffini served as webmaster for Bush-Cheney '04, overseeing a wide range of activities from day-to-day website operations, designing special features around high-profile events like the Conventions and Presidential debates, and managing the first-ever campaign blog for an incumbent President.
This is not political neutrality, this is farce.