(Joe is a great guy and would make an excellent City Council member. – promoted by Brian Leubitz)
This is going to be a diary about my friend Joe Shaw, who is running for Huntington Beach City Council and the Bolsa Chica Wetlands. It's a diary I promised myself to write because Joe is one of my dearest friends who has been there for me over the last couple of years in ways that no one else has.
But let me start with the story of the Blosa Chica Wetlands via the Bolsa Chica Land Trust…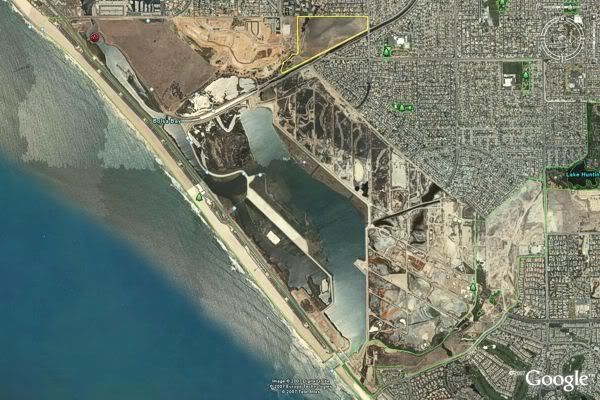 Satellite photo via Google Earth

The Bolsa Chica Land Trust was formed in 1992 by a small group of Californians who believed that one of the last standing wetlands ecosystems in Southern California was worth preserving for future generations. The Land Trust now includes more than 5000 members from throughout California and twenty other states.

The mission of the Bolsa Chica Land Trust is to acquire, restore and preserve the entire 1700 acres of the mesa, lowlands and wetlands of the Bolsa Chica, and to educate the public about this natural treasure. The Land Trust conducts educational programs to build awareness about the role of the Bolsa Chica wetlands system in the natural and urban environment, and tell the story of its rich history. The Land Trust's Bolsa Chica Stewards have been working since 1996 on the mesa re-vegetation project. Over 2000 volunteers have spent thousands of hours replanting the mesa. More than 8,000 native plants have been planted at the Bolsa Chica Mesa. Over 15,000 volunteer hours have been logged. Volunteers of all ages are bringing the Mesa back to life.

Huntington Beach is where I grew up and the Bolsa Chicas are a big part of HB life, the beaches, the surfing and the other amazing ecological preserves (Joe is also a docent at the Shipley Nature Center). And many residents in Huntington Beach and Orange County have fought for years to restore this amazing ecosystem.
Wetlands are important for many reasons, they actually sequester more CO2 than Rain Forests and provide habitats for many migrating birds on their way to the artic, some of which are endangered (Brown Pelicans, Snowy Plovers, Peregrine Falcons, White-tailed Kites, and Light-Footed Clapper Rails).
Wetlands help prevent beach erosion and also help a great deal with urban run off mitigation before that water reaches our oceans. It is also an amazing place to find a huge amount of biodiversity, from plant to animal life and is so important as environmentalist to protect and preserve.
But unfortunately, the Wetlands is endanger again from more development issues.
HB Planning Commission Votes Against Bolsa Chica,

and Allows More Housing on the Mesa

Commission votes 4-3 to change open space zoning to residential

to benefit bankrupt developer Hearthside Homes.

Bolsa Chica, and the people of Huntington Beach lost a round Tuesday night in the battle to maintain open space zoning on part of the Bolsa Chica Mesa; a zoning that protected the area from development.

When Commissioner Elizabeth Shier-Burnett implored her fellow commissioners to explain what public benefit could come from changing the zoning, she got no good answers, but four commissioners voted to change the zoning anyway.

Planning Commission Chair Blair Farely, Commissioner Shier-Burnett, and Commissioner Tom Livengood are to be commended for their votes against the zone change.

Commissioners Janice Mantini, Fred Speaker, John Scandura, and Barbara Delgleize voted to change the existing zoning on the land that protected it from development so Hearthside Homes, the developer currently in bankruptcy, could profit.

This however, is not the end of the story. This issue will be appealed to the City Council. The Trust will work very hard to educate our council members as to the reasons the environmental studies were inadequate, as well as to why the zoning on this land should not be changed. As soon as we know when the City Council meeting on this issue is scheduled, we will let you know!

The Bolsa Chica Land Trust was formed 18 years ago to preserve Bolsa Chica, and we remain true to our mission. If necessary, the Trust will take our fight all the way to the courts to protect the land on the Bolsa Chica Mesa.

This is it, this is why we need Joe. Three of the four votes on this commission are running for City Council and could very well collect donations from the very developer that could profit from building these homes on the buffer zone that boarders the Bolsa Chicas.
There is a reason for a buffer zone. And there is a reason why Huntington Beach ensures every time there's an open seat that they have to run someone who will protect the Bosa Chica's from further land development. This battle is never ending.
But why support Joe Shaw? Joe's not just some guy in Huntington Beach, he's a long time Kossack, joeesha user id? 2344. His first diary? I am a delegate. Joe's a professed Deaniac and he's still highly involved in our local DFA chapter. He emcee's meetings and I go so I can see him in person now and again. I said I loved my Joe.
Joe is an environmentalist's dream. He got an early endorsement for the Sierra Club for one thing. He's served on the board for the Orange County League of Conservation Voters. He not only planted his own Native Garden, he's promoting it as part of his campaign (and Charlotte, Gary and I were there to help dig the holes and plant the natives that day as well!).
Joe also worked his ass off for Debbie Cook's Congressional campaign in 2008, one of the greenest candidates in Orange County ever.
Joe Shaw also works on other local campaigns, supports so many in the County and is involved in Central Committee and is still a State Delegate. When my husband Gary ran for State Senate in 2008, Joe was one of the very first people to go to Gary and say, how can I help?
This is Joe Shaw. This is my dear friend. He wears his heart on his sleeve and he will jump over the moon to help anyone who needs it. I want to help him. I can't donate money to his campaign because of my own financial circumstances. I can give time and I can write diaries. This is the diary I wanted to write.
Joe is also an openly gay man in Huntington Beach, not one of the most liberal cities in Orange County, California. But he's out and he's proud and he is also involved in the GLBT community and has been for years. I could go on forever why I love Joe and couldn't ever tell you how much he's helped me personally over the past few years. But he has. So I want to help him. It's why I fought Prop 8 so much, it's why I want to fight here for him. It's why I am I so lucky to have people who understand my passion for the environment and who get me, my love of blogging and support that effort (Hello, Joe put up OC Progressive along with Gus so I could write locally).
I don't know if I have anyone as good of a friend as Joe in my life right now. And I don't know if I could think of life without him at this point. He's been my rock and if I need someone to talk to, there's Joe. If I need a hug, or a scream. I have Joe. Everyone needs a friend like Joe.
And here's what a Snowy Plover looks like, one of my favorite birds of the Bolsa Chicas. We saw some babies when Charlotte and I visited the Wetlands and Wildlife Care Center, unfortunately they might be very busy soon because of the River of Oil in the Gulf. This rescue center specializes in animals affected by oil spills. Another great resource in the heart of Huntington Beach.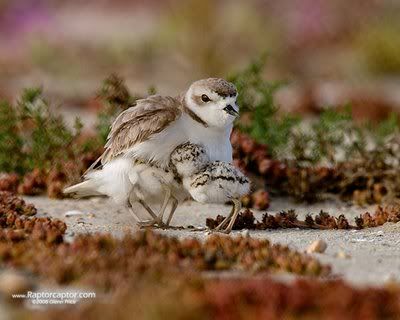 Yep, this is where I'm going to ask you to give five or ten bucks to Joe, for me, for his community and for the Bolsa Chica's. Even if I only raise $50, it is worthwhile because I love my Joe. So does my daughter Charlotte, by the way.