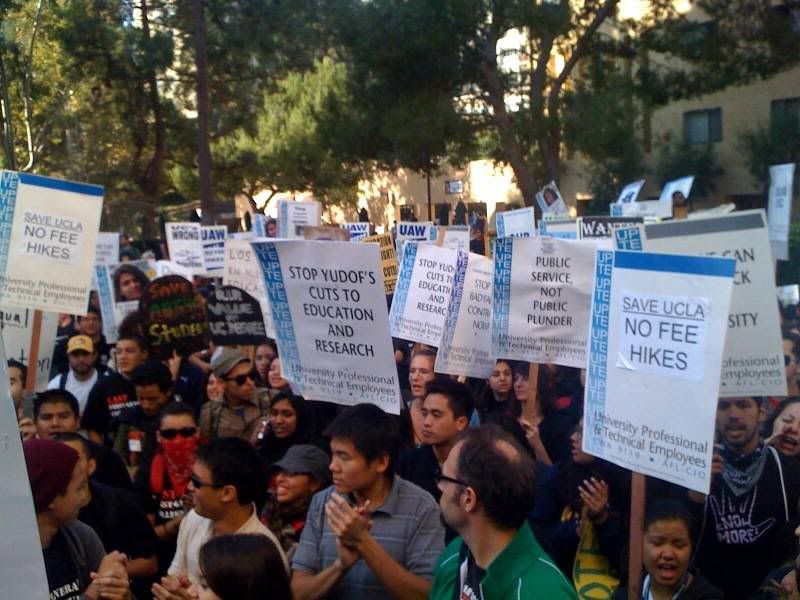 Dear UC students:
My heart goes out to you about the fee and tuition increases. It really does. I was there once, after all: it was just over 10 years ago now that I got off the Big Blue Bus at the Hilgard transit terminal at UCLA for my first day of classes. It was a wonderful and fascinating experience–especially for me, since I had been homeschooled the entire rest of my life.
College life can be wonderful. It can be stressful. And it can also be quite insular. Even though you're spending your entire time learning about the outside world, you might not be spending all that much time actually participating in that outside world, what with classes, work, sports, as well as the requisite amount of merry-making without which college life wouldn't be complete.
But here's something you need to figure out: you know that old story of the frog in the increasingly hot pot of water? That's you. This state has been in a fiscal crisis for several years now. There have been warning signs that this was coming for a long time. In other words, the gas has been on for some time now. And where were any of you when funding was gutted for AIDS patients? Where were most of you when health insurance benefits were systematically cut for the Californians who needed it most? Where were you when a billion-dollar corporate tax break was balanced on the backs of California's middle class? When all this was going on, did you think you were immune? As if somehow, you wouldn't be next?
Don't get me wrong: I'm glad you're actually out protesting now, even if it only happens when the pound of flesh is about to come out of your collective hides. After all, if you didn't, it would just be a tragic symptom of the collective apathy that is gripping our state. But just protesting the day of the vote? Too little, too late. It's just like I said in the aftermath of the passage of Proposition 8: Yeah, the protests might be fun, and they might feel good. But it's a little late to start getting active only when your rights have been taken away.
Let me borrow something from our dear Governor Howard Dean–put in terms that college students might empathize with: Voting only gets you a D. Same with these "day-of" protests. If you'd actually like to make a difference in the outcome, take a minute to stop downloading whatever it is you're downloading (hey, I don't judge) and help us organize.
Help us organize against the 2/3rds budget requirement that allows an extremist minority to hold our state hostage and force the budget to be balanced on your backs. Help us organize to kick out some of those same legislators and replace them with people who actually represent your interests. And who knows–maybe you'll find that you actually like organizing and activism and you'll decide to make a career out of it. We're always looking for good people.
(photo courtesy of Cindy Roach)