On a union rooftop in downtown LA, I stood and waited for John Edwards. I took day off from work to drive from Irvine to LA. The traffic was bearable and I managed some parking as well. I ran into other local Edwards supporters from Orange County who were volunteering through the Progressive Democrats of America. It was nice to see some friendly faces and I was eager to hear John Speak, as was the rest of the crowd. They broke into changing "John Edwards" and their enthusiasm gave me the chills.
It seemed like people were paying attention, that they knew we had to give him a chance to speak and I really hope more than the people on the rooftop will have a chance to hear what he said, it's for all of us.
Go here, to Brad Blog for the entire speech, it is well worth the listen and it was amazing.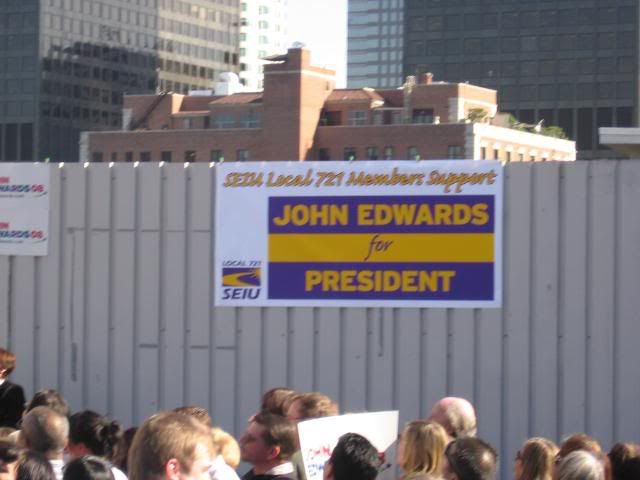 John made an important point about why California mattered this year. Are you reading this California? If you support Edwards, it is imparative that you not only vote for him, but that you make your presence known, let people know John is still in the race, not just for you or me, but from them too.

"I am an underdog campaign, but this is where you come in," he said in closing, his voice rising. "You can help us here in California, help a grassroots movement that spreads across this state, that spreads across this country. When that tidal wave of change is finished, we will be able to look our children in eye and say, 'We did for our you what our parents did for us.'"

Edwards took the time to criticize Arnold for his massive spending cuts to Education, Health Care, etc. The state is losing revenue from guess what? That's right, the housing crisis. The last thing we need to cut are services that help families that are on the verge of losing their homes or are upside down on their mortgages due to the huge decline in housing values. My home has lost 10% of it's value in one year, what if I have a major illness? What if I lose my job? I would be that much closer to losing my home when it's not even worth what I bought for a year ago.
He fired up the crowd by ripping into California Gov. Arnold Schwarzenegger's proposed education and state health care budget cuts. "The last thing that needs to happen in the state of California is to have any of the funding that is that is necessary to provide health care for Californians cut," he said, adding: "Who in the world in America thinks we have too much money invested in public education? This makes absolutely no sense."
Above are three of the people who helped introduce Edwards to the LA Crowd in the downtown headquarters of a local SEIU Union Hall. I really enjoyed Annelle Grajeda's introduction the most, she really focussed on why Edwards is the candidate not just for union families, but working families.

"John Edwards is the change candidate in this campaign — the candidate with not only the boldest ideas for change, but the candidate who can win in November, strengthen Democratic majorities in Congress and at the state level, and make his ideas a reality," said SEIU CA State Council President Annelle Grajeda. "John Edwards can go to any part of the country and help Democrats down-ballot. With John Edwards as our nominee, we can get the change we need."

"I'm proud to support John Edwards because he understands, better than any other candidate, the challenges facing working Americans," said L.A. City Councilman Richard Alarcón. "Whether it's truly universal health care, fixing America's trade policy or ending America's involvement in Iraq, John Edwards has offered real solutions to the challenges Americans face, and he's determined to be a voice for regular people. I truly believe we need his leadership in the White House."

"After eight years of George Bush, it is critical that we have a Democrat in the White House," said L.A. City Councilman Herb Wesson. "We need a candidate who can bring real change to America and who can win. That candidate is John Edwards. He can compete and win in every part of the country, including red states and battleground states because Americans identify with who he is and what he stands for – fairness and opportunity and making sure everyone has a chance."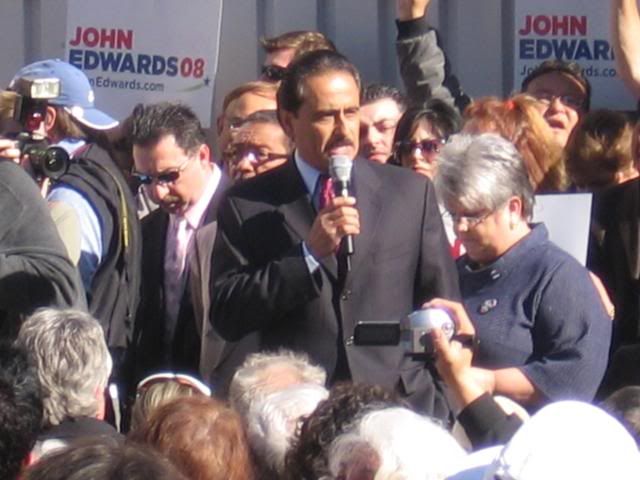 Alercon made a great point, why are we paying so much attention to New Hampshire and Iowa? Californians need to change the tone of the race and really send the most important message of all, well monied campaigns are great, but it doesn't mean they have to win, even in big states like California.

"I'm asking you, California, are you going to follow Iowa? Are you going to follow New Hampshire? Or are you going to stand alone as Californians and also send a message across America?"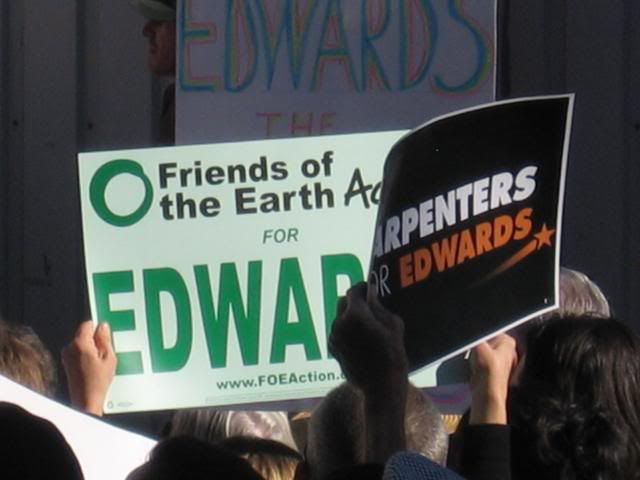 John addressed an issue that is so important to Californians, alternative sources of power. I came across this on youtube from yesterday's rally and wanted to add it.


Didn't take this one, it was from the opposite side of the rooftop.
The comments that hit me the most are the ones about comparing the the wages and bonuses of CEO's (Health care CEO makes 200 million) and the profits of large corporations (Oil company rakes in 40 BILLION in profits as families struggle to pay for heating oil!) to the millions of Americans who are lacking Health Care, housing, food and education.
John Edwards does not want to cut profits and wages, he wants to insure that no one is left behind while the people on top profit to excess. It's the disparity that's troublesome to me, to John and to many others. At what point is it okay to make a profit while denying coverage to people who pay their benefits? And John is standing his ground on Mandates, he's proud to say his plan requires that people get health care and that pre-existing conditions will be a thing of the past. Your health care should go with you, where ever you work and what ever you do. Imagine that?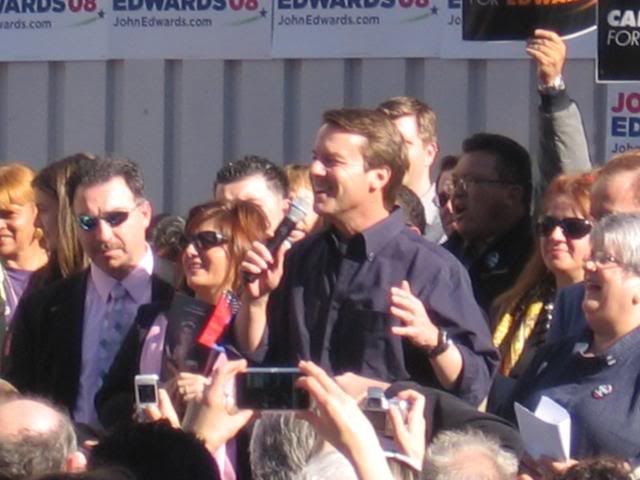 You could tell how much he loved the crowd and how happy he was to be there, his energy level was amazing as was his candor, his honesty and his ability to bring it down to just a few important points. The system is broken and when it does work, it's working for far too few and leaving so many out, mostly working families and single household families with working mothers. (Personal rant, why the hell can't we help those women who stick, who stay to raise their children? Why must shelters turn away women with children to go back to the streets? How is this okay in any society? I ask this as a child of a single mother, who lived in dingy apartments, relatives basements and other conditions to escape an abusive relationship. This was a bold move for my mother to make in 1972 and it's not any easier 35 years later?)
"To get real change, we need a president who will stand up against the big corporations and powerful interests who control Washington," said Edwards. "The American people – whether they live in rural areas or urban areas, red states or blue states – need a President who will stand up for them. As President, I will make sure the voices of all Americans are heard in Washington. If we fight together, we can get the change we need and America will rise."
And there were a few times where John had to stop talking because th cheering was just not going to quit. He loved it, he knew his message was getting to the right people.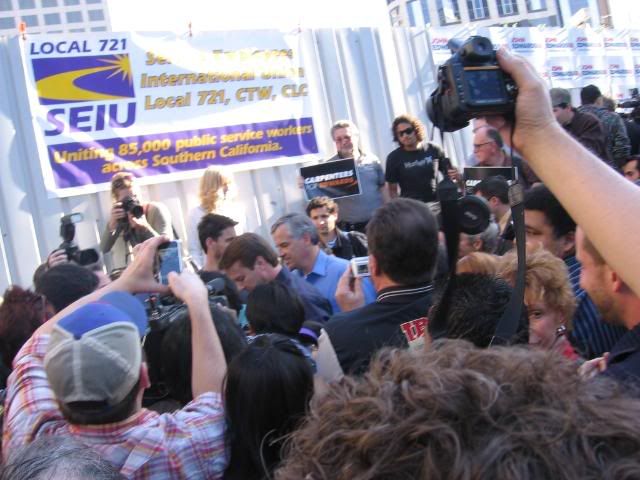 The photo I took as I tried to get closer and talk to John. Ha! Right.
This is where I was, in the back, happy to see all the media and news vans, thank God.
At the end John was swarmed by so many people and I had chosen to be far back rather than up front where I started. I regret not being a bit closer, just so I could at least tell him one thing, I'm proud that I support him, I'm proud of the campaign he's running and I don't regret being such a vocal supporter of his, he's really proven to me that I made the right choice. He's still fighting, so I too will continue.
This woman and her son were waiting to say hi to John, but she didn't dare try to push forward, so I asked if I could take their photo. Her son was so happy to be there too, he was bouncing, he was giggling and he was joyful. It made my day!
And here are some photos of the rally that other people took, which are so much better than mine. I need a nicer camera!
I voted for John yesterday as did my Mother. She was happy too.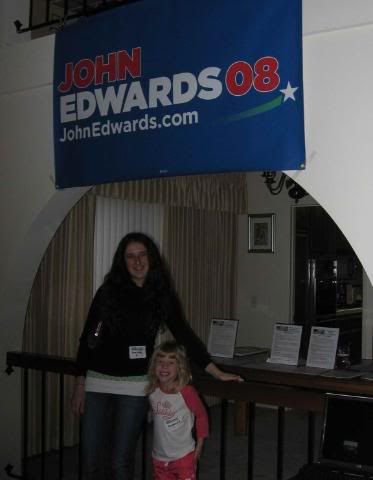 I saved this from our kick off meeting, Orange County for Edwards. It's Stephanie, my cousin and some kid I found hanging out at my house 🙂
Here is a local report of Edwards' visit.
And last but not least, please don't foget today is the day. Edwards can raise money, please donate!
I waited until today to donate $100. I don't have it really but I'm still doing it because I think it's that important.