( – promoted by SFBrianCL)
Douchebags on Parade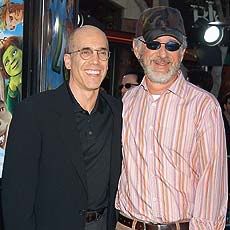 So it's come to this:
Hollywood Trio Endorses Governor

The move by Spielberg, Katzenberg and Saban could encourage other Democrats to follow.

By Robert Salladay, Times Staff Writer
August 5, 2006

SACRAMENTO — Some of Hollywood's most reliable and generous donors to the Democratic Party — Steven Spielberg, Jeffrey Katzenberg and media mogul Haim Saban — are endorsing Gov. Arnold Schwarzenegger's bid for reelection.

Their support is partly a matter of friendship over partisanship. But it could deal a blow to the governor's main opponent, state Treasurer Phil Angelides, by signaling to other Democrats that it's acceptable to embrace a Republican.

. . .

Crossposted from MY LEFT WING
Perhaps the deepest pockets among those embracing Schwarzenegger belong to the Egyptian-born Saban, who produced the "Mighty Morphin Power Rangers" and eventually created a media empire.

Saban, who is trying to acquire the Spanish-language network Univision with other investors, is a former trustee of the Democratic National Committee and one of its biggest donors. He spent $200,000 fighting the 2003 recall election that brought Schwarzenegger to power.

Other Hollywood Democrats on the list of Schwarzenegger supporters include Jerry Zucker of "Airplane!" fame, movie producer Jonathan Sheinberg and Bud Yorkin, a longtime TV director and producer.
I withdraw my prior predictions of Angelides's decisive victory. These fucking douchebags have just guaranteed a Schwarzenegger re-election.
Don't even get me STARTED on the fucking ironies here — there are too goddamned many to mention.