There have been a few voices suggesting California Lt. Governor John Garamendi abandon his bid to replace Liebermanesque Ellen Tauscher and instead run in California's third congressional district against Dan Lungren.
And if you are a Democrat – especially a Progressive Democrat – that is good news. Strategically, such a move would be counterproductive for Democrats.
It Makes No Sense for California Democrats
The biggest problem in California is the Republican Veto. This means that Democrats may have a majority in the legislature, but not a functioning majority. With the artificial budget control by Republicans, it actually hurts Democrats if a legislator ascends to congress in a Special Election. With state Senator Mark DeSaulnier and Assemblywoman Joan Buchanan both running for Tauscher's seat, in all likelihood a Democratic legislator will win unless Garamendi runs.
There are two forces at work that make it counterproductive for Democrats to support a legislator in a special election:

California law requires a vacancy in the legislature to be filled by a special election which can take as long as five months from the time the vacancy occurs.
California law also bases the 2/3 necessary to pass the budget off of the total number of legislative seats, not the total number of legislators serving
Together, these two rules mean that electing a legislator creates a situation where it will take even one more GOP vote to pass a budget. As we see pretty much every year, it is the last vote that is the hardest and requires the most caving by Democratic legislative leadership.
So if Garamendi doesn't run in the 10th, it actually strengthens the GOP in California who are all but expecting a legislative special election to weaken the Democratic caucus. Unfortunately, it makes sense for them to stall on the budget until the vacancy occurs to force even more cuts to the budget.
And it could get even worse. The last East Bay congressional special election occurred when Ron Dellums resigned from congress in 1997. This set off an infamous series of special elections where there were legislative vacancies for over a year. Absent Garamendi running, the frontrunner is Mark DeSaulnier. If he wins, he would have to give up his senate seat setting up a second special election. Assemblymember Tom Torlakson can't run, but Assemblymember Joan Buchanan has already indicated a willingness to run for higher office in a special election and if she won, it would set up another special election (and it is doubtful Democrats could hold her seat).
However, if Garamendi were to win it does not strengthen the GOP hand in Sacramento. In fact, since Governor Arnold Schwarzenegger would get to appoint a replacement, it could actually help passing a budget if Schwarzenegger picked a legislative Republican.
In short, the realities of California's constitution mean we want legislative vacancies on their side of the aisle, not ours. A vacancy on our side dramatically increases the ability of the California Republican Party to hurt California more via budget cuts.
It Makes No Sense for Progressive Democrats
I would have loved a move like this in 2006 and it still would have been good in 2008, but right now we are in an entirely different situation then we were back in the days many of us were fighting to expand the playing field. Back then, it was the traditional dogma we were fighting against, but ironically now some of the strategies we once used have become the dogma which is clouding the judgment of some.
If Garamendi were to run in the third instead of the tenth, it would actually be counterproductive for progressives. The battle is no longer to get in the majority, the battle lines are within our safe majority. It actually helps progressives standing within the caucus more to have Garamendi then it does to have Garamendi and a conservative (DeSaulnier or Buchanan).
But more likely is that Garamendi running in the third would result in a moderate winning in the 10th and Lungren being re-elected. While Garamendi does have name recognition, his entire gubernatorial campaign has raised less than $200,000 under the federal rules he would be operating under. While he would be able to raise enough money for a sprint in a special election, it is unlikely he could raise enough to win as a challenger absent serious national support in a year when the DCCC is playing defense and it makes far more sense for small donors to contribute to senate candidates then try and expand the majority in the House.
Even if Garamendi won in the third, he would be a far better Representative coming from the 10th. Since Democrats lost control of the next redistricting, Garamendi would have to spend all of his time running for re-election while the moderate winner in CA-10 would be free to spend time screwing progressives (the Ellen Tauscher tradition).
The Worst Case Scenario
The best thing for conservatives is for Garmendi to run in the third. This will make it nearly inevitable that the GOP will have a far stronger hand during budget negotiations, ensure Ellen Tauscher is replaced by another moderate, and give Garamendi at best a 50-50 chance of picking up a seat that won't change anything in DC.
While I'm sure supporters of DeSaulnier will keep pushing this absurd idea, the fact that it is the best case for conservatives might be why Ellen Tauscher thinks DeSaulnier will do such a great job carrying on her work.
Progressives should applaud Lt. Governor Garamendi running in CA-10. It makes it likely that Ellen Tauscher will be replaced with a progressive stalwart and will hopefully prevent the disaster of either of the conservative legislators winning the seat and making things Sacramento even worse.
Tuesday night Matt Lockshin, the internet director for the California Democratic Party put up a poll on the subject: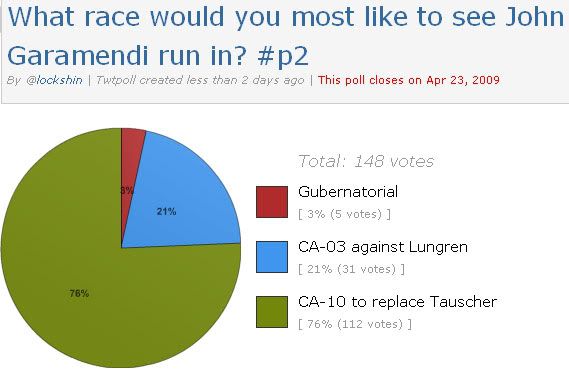 Hopefully this bad idea will end and we can replace Ellen Tauscher with a progressive.