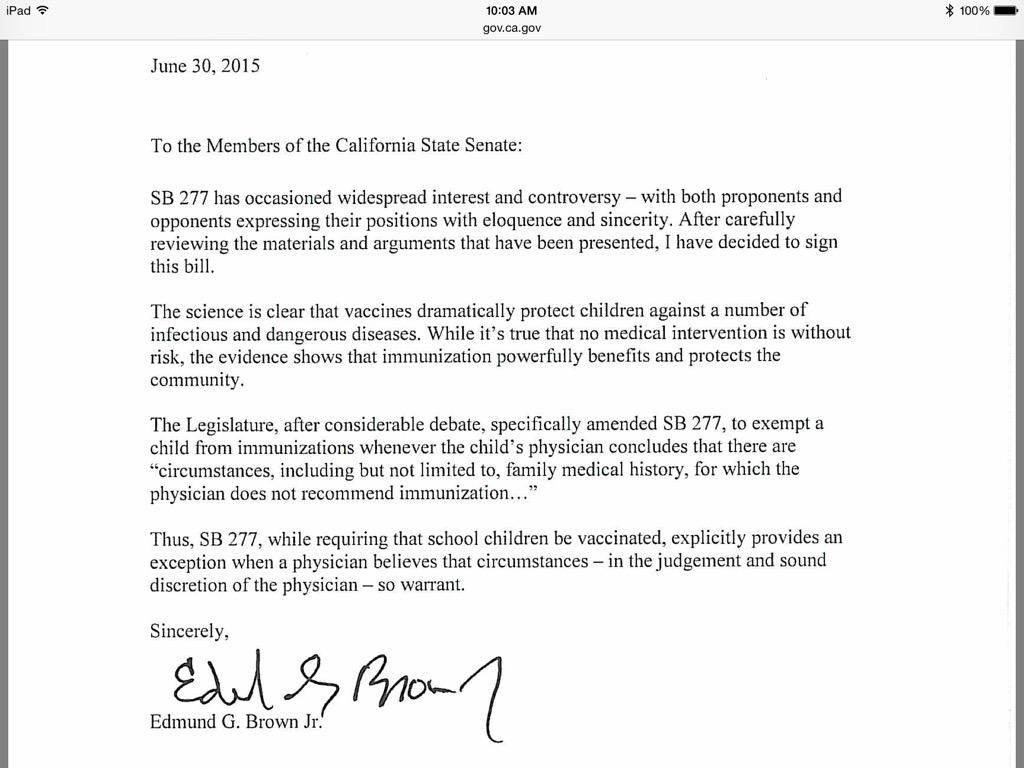 Bill eliminates most non-medical exemptions
by Brian Leubitz
While SB277 may have drawn a lot of attention and vocal minorities to the Capitol (and anywhere else legislators congregated). But after the recent passage of the legislation, Governor Brown wasted no time in signing the bill yesterday.
SB 277 requires all children entering day care, kindergarten or 7th grade to be vaccinated, although the legislature included a specific exemption if a child's physician concludes that immunization is not recommended for reasons including family medical history. …

Sen. Pan, speaking on KPCC's AirTalk on Tuesday, said he was pleased that Brown had "listened to the science, listened to the facts about vaccination." Brown, he said, has "taken a very important step in assuring we stop the erosion of community immunity in California and that we prevent diseases that should stay in the history books."(KPCC)
You can listen to that AirTalk program here. The governor's full letter is the right from the Chronicle's Melody Gutierrez.

.@JerryBrownGov's signing message with #SB277 mandatory vaccine bill, which passed Legislature yesterday. pic.twitter.com/yuBfDEqgRZ

— Melody Gutierrez (@MelodyGutierrez) June 30, 2015