Thanks for tuning in once again, hopeful Americans
And welcome to what John Edwards has called "the Fight for America's Middle Class". This is a fight to reclaim a Voice in our Democratic process — to speak up for those people, who need a Champion, like you and me.
1st a Question: Who is the Middle Class?

America is sometimes called a "middle-class country," but nobody – not economists, sociologists, or the U.S. Census Bureau – seems to have a clear definition of who the middle class actually is. The notion of where a dividing line between "middle class" and "working class" might be is an elusive one …

a non-partisan and non-profit organization, reports that the middle class has conventionally come to mean families with incomes between $25,000 and $100,000 each year.

…

As NOW reported in "Middle Class Squeeze" (Dec 13, 2002), the shape of income distribution in America is changing and many are finding it increasingly difficult to afford housing while keeping up with necessities such as food, clothing, transportation, and health care.
That was from
PBS – Now — 06-25-2004
(not much has changed since Now's 2004 study, has it?)
according to PBS's Now, the Middle Class covered a wide range of incomes $25-100K, and is characterized by people
finding it increasingly difficult to afford housing while keeping up with necessities such as food, clothing, transportation, and health care.
That's sounds like a pretty "Big Tent"!
John Edwards sees us struggling to make ends meet — and he is Fighting to give us Hope and Opportunity again!
It's about time, someone did!
Please spend some time to join this very worthwhile Fight, too:
TheSlate
Edwards says he can come from behind to win home state of SC

By BRUCE SMITH – AP Writer
Jan. 12, 2008
…

Polls show the former U.S. senator from North Carolina trailing Sens. Barack Obama and Hillary Clinton.

"The same thing was true in 2004," Edwards told reporters after meeting about 200 people at a diner in this upscale resort.

"When I was several weeks from the primary in 2004, I was in fourth place I believe and I wound up winning South Carolina by double digits," he said.

South Carolina was Edwards' only primary win four years ago. Edwards is on a four-day bus tour of this early voting state.

"People just have to hear what I've got to say," Edwards said. "It's hard because the national media is focused on – and have been for many months now – focused on two candidates.

"It's very hard to get heard, but when I get heard, people respond."

During his tour, Edwards has been traveling in a bus dubbed the Main Street Express with a sign on the side that reads, "Join the fight for America's middle class."
http://www.thestate.com/309/st…

—-
CBS – From The Road
Edwards Continues Courting South Carolina

Posted by Aaron Lewis
Jan 12, 2008
…

Edwards stood on a stool in the middle of the parking lot and gave a brief bullhorn speech to a crowd gathered around him.

"I'm here today to ask you to reach out to your friends, to reach out to your neighbors," said Edwards. "I'm running against two candidates who have a hundred million dollars plus. My campaign is much more of a grassroots campaign, which means word of mouth, telephone calls, knocking on doors. It means doing the work that has to be done to get our people to the polls."

…

"I know the people of South Carolina and I know the struggles they're going through."

…

But they stood patiently with the rest of the crowd and seemed rather pleased once they scored a handshake.

As Edwards marched through the gauntlet of palms waiting for him throughout the restaurant, one gentleman audibly voiced his approval of Edwards's attire.

"He's wearing a sports jacket with jeans," he said. "You gotta respect that in a candidate!"
http://www.cbsnews.com/blogs/2…

—-
CBS – From The Road
Edwards Says He Has "Plenty of Money"

Posted by Aaron Lewis
Jan 11, 2008
"We have plenty of money to run a serious campaign," said Edwards. "And I think more important than that, I don't think voters are going to be controlled by money. We're gonna have an election, not an auction. And they're gonna actually focus on what it is we stand for, what we're fighting for, and I feel very optimistic about what'll happen."
http://www.cbsnews.com/blogs/2…

—-
CNN reports some more campaign news from the Trail:
Dan Lothian – CNN Boston Bureau
Jan 12, 2008
SUMMERVILLE, South Carolina (CNN) …

Edwards says no matter what happens here on January 26, he's in the race for the long haul.

"We have plenty of money to run a serious campaign, and I think more important than that, I don't think voters are going to be controlled by money."

Edwards said the election was about "standing up and fighting for the middle class," to help lift people out of poverty and push for universal health care.

"The United States of America is better than this, and our parents and our grandparents struggled and sacrificed so that they can make this country what it is capable of doing," Edwards said. "Now the question is: Will we rise up and show the same kind of grip and fight and strength and determination that they did? The answer is I believe we will."

"It's going to happen as we spread through these primaries, including right here in South Carolina," he added. "I think you are going to stand up and say 'yes.'"

Edwards' message resonated with Darrell Clinton, who describes himself as a staunch Republican who's now putting party politics aside to support Edwards.

"He's a good mainstream politician looking out for the little guys," Clinton said. "So often the guys at the top are taken care of, the guys at the bottom are taken care of, but there's a lot of people in the middle … hurting."

Edwards was happy to get Clinton's support.
http://www.cnn.com/2008/POLITI…

—-
I hope that last line, is a "good omen" of things to come. And Edwards' natural appeal to cross-over Republicans in no small matter, if Democrats want to insure a landslide victory in 2008!
Vote Smart, Dems.
The Edwards campaign is going into serious upsizing mode in Nevada too, where Union Support is sure to be a factor:
Political Leaders, Campaign Officials, Celebrities in Nevada for Geared Up Edwards Campaign on Final Weekend Before Caucus
Jan 11, 2008
…

The campaign will also be holding a statewide canvass with supporters from Nevada and across the region, including many union members who have been working with the campaign for months as part Edwards' large bloc of labor support. Canvassers will spend Saturday and Sunday going door-to-door delivering targeted messages to Nevada caucus goers on the issues that concern them the most.

Former New Mexico Attorney General Patricia Madrid will be in Las Vegas to kick off the canvass on Saturday and then go door to door to talk about John Edwards' plan to fight for working and middle class families. On Sunday night she will attend a house party with Edwards supporters and precinct captains.

Actress Madeline Stowe of "The Last of the Mohicans" and "Twelve Monkeys" will be in Las Vegas on Sunday to meet with voters and go door to do to discuss Edwards' plans to build One America when everyone can work hard and build a better life. On Sunday night she will attend a house party with Edwards' supporters and precinct captains. She will remain in Las Vegas for several days next week.

Edwards has strong grassroots support in Nevada due to his leadership on the issues, particularly health care, Iraq, working families and energy.

His organization was recently bolstered by staff from Iowa who came to Nevada following their work on Edwards' strong second place showing over Hillary Clinton.

He has deep support from labor. The campaign has been working closely with the Carpenters, Steelworkers, Transport Workers and Communication Workers for months. Political leaders who support Edwards have been hard at work making phone calls and knocking on doors to spread his message of building One America.

Polls consistently show Edwards is the most electable Democratic against any of the top Republicans and is the only Democrat in the race to ever win in a "red" state .
http://www.johnedwards.com/new…
Some more on those Union workers — fighting for our Middle Class Issues:
NYTimes
Unions Pouring Resources Into Nevada Caucus Fight
Steven Greenhouse

Jan 13, 2008
But Mr. Obama's union support in Nevada is formidable. Culinary Local 226 is the most politically powerful labor union in Nevada, and the unions backing Mrs. Clinton, as well as former Senator John Edwards of North Carolina, are trying hard to counter its efforts. Union officials backing Mrs. Clinton note that many members of the culinary local are not American citizens and therefore cannot participate in the caucuses.

Chuck Rocha, the political director of the United Steelworkers, which backs Mr. Edwards, said his union had 42 paid workers in Nevada to mobilize its 3,500 members, including 900 Las Vegas cabdrivers.

"We're playing a dual role," Mr. Rocha said. "We do member-to-member beginning at 7 a.m., going to factory entrances, for instance.

When their eight-hour workday is over by 2 or 3, we have this army of 40 people who become volunteers for the Edwards campaign, who have a bigger impact."
http://www.nytimes.com/2008/01…

—-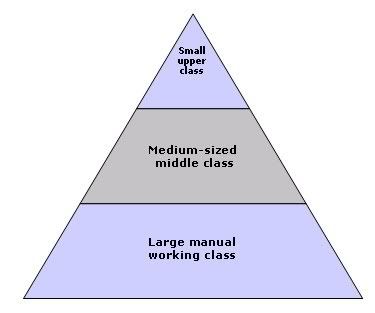 Even though PBS describes the Middle Class as the range of incomes $25-100K, struggling to meet everyday bills, all too often those trapped in the lower rungs of the pyramid, face challenges everyday that can make Life seem all but Hopeless!
Well, John Edwards (sounding more like RFK everyday) sees their plight, and has just responded with:
Plan To End Poverty In South Carolina Within A Generation
Jan 12, 2008
… today Edwards introduced his plan for "Ending Poverty in South Carolina Within a Generation," which calls for major new policies for work, housing, education, debt and savings, and family responsibility.

"Too many Americans are separated from the opportunities of our country," Edwards said. …

"In America, every child should be able to go as far as her God-given talents and hard work will take her," said Edwards. "As the first in my family to go to college, I know that our system of public education should be our sturdiest ladder of opportunity. To build the better America we all believe in, we must find ways to make college more affordable. We've got to make sure that every qualified student has the opportunity to go to college and fulfill the American Dream."

…

Ending Poverty within a Generation: Edwards called for a national goal of ending poverty within a generation by cutting poverty by one third within a decade and ending poverty within 30 years.

Rewarding Work: To create more opportunities for work and reward those efforts, Edwards will raise the minimum wage to $9.50 an hour by 2012, helping the 33,000 South Carolinian workers who earn the minimum wage or less; cut taxes on low income workers; create 1 million Stepping Stone jobs; and strengthen workers' rights.

Overhauling Housing Policy: Edwards will create 1 million new housing vouchers over five years to help low-income families move to better neighborhoods, invest in struggling neighborhoods, and promote state and local efforts to build affordable housing close to good jobs and schools.

Strengthening Schools and Making College Affordable: Edwards will create a universal system of Great Promise early childhood education centers; invest more in teacher pay and professional development; radically overall No Child Left Behind; create Second Chance schools to help high school dropouts; and pay the public college tuition of everyone willing to take a part time job through a new College for Everyone initiative.

Helping Families Save and Get Ahead: Edwards will subsidize bank accounts for the 28 million Americans without them; create new Work Bonds to help low-income workers build up savings accounts; and protect families against abusive financial products, including payday loans, predatory mortgages, and abusive credit card terms.

Supporting Responsible Families: Edwards will encourage and reward responsibility from fathers by helping them find work and requiring the help support their children and discourage teen pregnancy. He will also call on community leaders to recognize that there is only so much that the government can do, and we all share the responsibility of promoting strong families.
[Link goes into more details]
http://www.johnedwards.com/new…

—-
Lest other states, feel slighted, an Edwards Administration would have a similar plan for the Nation:
A National Goal: End Poverty Within 30 Years
Now to continue with another detailed look at John Edwards' Plan to fix what's wrong in America.
The Edwards team has given a lot of thought to these plans to help lift up the Middle Class. So we here in the Middle Class, who have daily challenges to 'make ends meet', should take the time to seriously consider this Repair Manual as well!
THE PLAN TO BUILD ONE AMERICA: BOLD SOLUTIONS FOR REAL CHANGE




[ click the image for your own copy. ]
Tonight's Topic:
I. Standing Up for Working and Middle-Class Families
True Universal Health Care


"Mr. Edwards transformed the whole health care debate with a plan that offers a politically and fiscally plausible path to universal health insurance."
– Paul Krugman, New York Times columnist



"Easily the most impressive health care reform proposal adopted by a national Democrat in 15 years."
– Ezra Klein, The American Prospect
JOHN EDWARDS' PLAN FOR TRUE UNIVERSAL HEALTH CARE
[pgs 8-10]
Summary
Forty-seven million Americans without health care is a moral outrage. John Edwards was the first major presidential candidate to propose a detailed plan that takes on the big drug and insurance companies to guarantee quality, affordable care for every American.
The Edwards Health Care Plan
(1) Universal coverage through shared responsibility

(2) Affordable and higher quality health care

(3) New strategies for prescription drugs, long-term care, cancer, HIV/AIDS and nursing shortages
(1) Universal coverage through shared responsibility

— I. Outline of the Edwards Plan

A) Require by law that every American have comprehensive health coverage, including mental health coverage.

B) Require businesses to either cover their employees or help pay their premiums.

C) Make insurance affordable by creating new tax credits, expanding Medicaid and SCHIP, reforming insurance laws and taking innovative steps to contain health care costs.

D) Create new Health Care Markets to give families and businesses purchasing power and a choice of quality plans, including one public plan.

— II. Impact of the Edwards Plan

A) Families without insurance will get coverage at an affordable price.

B) Families with insurance will pay less and get more security and choices.

C) Employers will find it cheaper and easier to insure their workers.

D) The health care system could evolve into a singlepayer approach if Americans choose to enroll in the public plan instead of private insurance.

— III. Honesty about the Cost

A) We need to be honest about paying for universal health care. The Edwards plan costs $90-$120 billion a year. He will pay for it by repealing President Bush's tax cuts for Americans who make over $200,000 a year and reforming health care to get better care at lower cost.

(2) Affordable and higher quality health care

Edwards' cost-saving measures will save an average insured family $2,000 to $2,500 a year and eliminate at least $130 billion a year in wasteful spending.

— I. Get Tough on Big Insurance and Drug Companies

A) Outlaw discrimination against people with preexisting conditions and require insurers to spend at least 85 percent of their premiums on patient care.

B) Make private insurers compete with a public plan available through the Health Care Markets.

C) Allow Medicare to negotiate drug prices, regulate misleading drug ads and permit safe reimportation of prescription drugs from Canada.

— II. A New Era in Preventive and Chronic Care

A) Edwards will require coverage of preventive care at little or no cost and ensure that providers monitor chronically ill patients' health to reduce complications and hospitalizations.

— III. Implement Information Technology

A) Edwards will require the use of electronic medical records to reduce duplicative tests and medical errors while protecting patients' privacy.

— IV. Evidence-Based Medicine

A) Edwards will create an objective source of reliable medical information to help doctors give the best care and a "Consumer Reports" for health care for patients.

(3) New strategies for prescription drugs, long-term care, cancer, HIV/AIDS and nursing shortages

— I. Choice and Dignity in Long-Term Care

A) Edwards will reform the long-term care system to create choices for older Americans and people with disabilities, provide home and community care and promote dignity for families and workers.

— II. A National Strategy for Cancer Survivorship

A) Ensure that Americans with cancer are diagnosed earlier and receive coordinated care, and strengthen family support networks.

B) Double funding for research priorities, reduce risk factors and close racial and ethnic disparities.

— III. End the HIV/AIDS Epidemic

A) Guarantee care for HIV-positive individuals through Medicaid before the disease advances.

B) Prevent HIV/AIDS with science-based steps and fight it in the African-American and Latino, as well as LGBT, communities.

— IV. Address the Nursing Shortage

A) Graduate 50,000 new nurses by investing in nursing schools and scholarships.

B) Bring back and retain 50,000 existing nurses with new safety standards, safe staffing ratios and a banon mandatory overtime.
True Universal Health Care
"We have to stop using words like 'access to health care' when we know those words mean something less than universal care. Who are you willing to leave behind without care? Which family? Which child? We need a truly universal solution, and we need it now.
"I don't believe you can sit down at a table with lobbyists for drug companies and insurance companies and negotiate your way to universal care. They are dead-set against this. It's going to take a president who can take them on and beat them. That's what I've been doing my whole life."
– John Edwards, Candidate for the Democratic Nomination
Sounds like a plan with its main goal of improving the Quality of Life, for the rest of us.
Join this "Fight for America's Middle Class" — it CAN Happen!
Well Thanks for stopping by. I hope you found something of interest to read.
As long as John Edwards is willing to listen to our issues, us 'Working Folks', shouldn't we be willing to to Work with him, to help get OUR Message out?
This will ultimately be an Election, which ultimately the People will Decide …
Wouldn't it be nice, if they had enough information, to actually make an informed Decision?
That truly would be a victory for Free Speech.