Chad Mayes gets moved to the back
by Brian Leubitz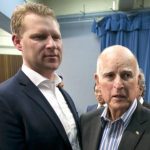 Yesterday, the Assembly Republicans shifted some deck chairs on the Titanic, and got a new leader for their superminority come next legislative session. Chad Mayes got the boot for acknowledging that climate change was real (while negotiating some odious provisions) and voting for the cap and trade legislation. And so, he has a very special seat at the back of the Republican caucus reserved for heretics.
"Once again, elected Republican legislators have shown that they can't abide heresy – in this case, acknowledgement that climate change is real and requires real solutions. Mayes, in organizing Republican votes for AB 398, showed more political courage than any member of the federal Climate Solutions Caucus… and lost his position as Assembly Minority Leader. This vote only reinforces our belief that there's no reasoning with Republicans on climate solutions. The only real solution is to vote them out," said RL Miller, chair of the California Democratic Party's environmental caucus as well as the president of Climate Hawks Vote, a PAC building political power for the climate movement.
At this point, the need for Republican votes is rare. Logically, they should seize the opportunity whenever they can. But that would require compromise to achieve some semblance of results on their goals, and the base DOES NOT LIKE compromise.
And so Chad Mayes is shifted to the side. And given that the base at home is quite unhappy, he may face a nasty primary challenge next year as well. But the problem Republicans face is that they are damned if they do, damned if they don't. Mayes actually managed to get some pretty unpalatable provisions in the cap and trade legislation that were something of a giveaway to the oil and business lobby. You know, the GOP money people, but his base at home simply doesn't like negotiating anything with Democrats, especially anything that acknowledges that climate change is real.
But don't worry about Mayes, he'll find a nice paycheck somewhere now lobbying for some corporate interest. But the lesson here is clear for the GOP: "No negotiating. We like our irrelevancy and screaming from the cheap seats."