( Didn't really want to write this, but since the comment to the story about McClintock's KKK endorsement kept expanding, it gets its own diary. I noticed some skepticism towards this topic at dailykos, and since I had a lot of background material already available, it is relevant. )
This "endorsement" would explain why one of McClintock's supporters keeps on using

…..This.


This was in the local paper 9/21/08. It's from a McClintock supporter who posts blogs or comments on a daily basis. Most of his stuff I won't repeat because it's too inflammatory. I just try to tell people that these wedge issues are being used to do internet fundraising targeting senior citizens based on a fear of minorities, and that provoking these fears is wrong.
Regarding the above screenshot of a blog post in my local paper, I know who this is, and I know he's a long time financial supporter of both the Republican incumbent and the imported Southern California Republican challenger. (and I found a write up about him on a Christian website, which was not… complimentary. He has a long history of this sort of activity, which other people do not think is charitable towards others ) I've posted this image on dailykos before, when he first put it up. It's following a theme they started when McClintock and Dan Logue decided to do that "Minutemen" "Secure the Borders" tour this spring up in the northern part of the district, during the Republican Primary.

*

*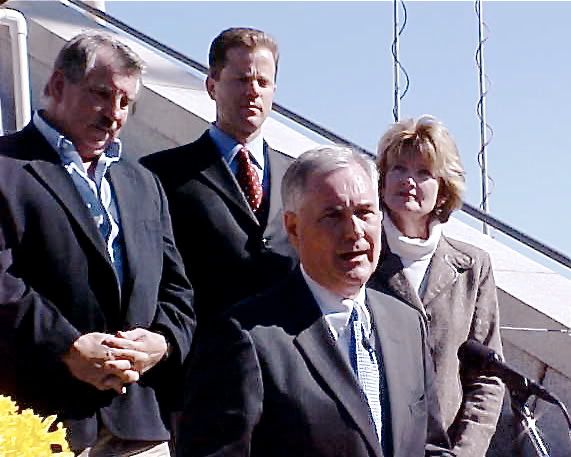 March 4, 2008. left to right, Dan Logue, Eric Egland, Tom McClintock, Sue Horn, as McClintock announces he's running for Congress.

Dan Logue, state assembly candidate, appeared with McClintock on the "Secure the Borders" tour with the Minutemen group in May, and his state Cal- access campaign money records for this cycle shows he paid the group that did the tour, "Secured Borders Consulting, Inc" and Jim Gilchrist.

http://cal-access.sos.ca.gov/C…

Eric Egland is a former CA- 04 candidate, a Fox News spokesperson, has served as President Bush's spokesperson on mideast trips, has donated thousands of dollars to McClintock's campaign, and has worked with MAF, which created the swiftboating ads currently being used against Democratic candidate Charlie Brown. Sue Horn is former state assembly candidate whose husband works in the building/real estate developer business.
Jim Gilchrist, the founder of the Minutemen Project, endorsed McClintock. The other Minuteman Civil Defense Corps (the founders split into 2 groups) which uses a cleaned up Chris Simcox as its spokesperson and consultant, appeared in Nevada City with McClintock on May 7th. Simcox also endorsed McClintock. This is what bothered me so much when I saw the flags and other war (Minutemen and the US- Mexican 1847 ) insignia on the parade float the Republicans used during the 4th of July Parade in Lincoln this year.
Links about Jim Gilchrist:
Jim Gilchrist, the founder of the Minutemen Project, endorsed McClintock:

http://www.redcounty.com/place…
Gilchrist's Minuteman homepage:

http://www.minutemanproject.com/
Gilchrist's myspace page http://profile.myspace.com/ind…
Links, Chris Simcox, other Minuteman Civil Defense Corps, tours with Logue and McClintock http://www.redcounty.com/place…
Simcox's MCDC page: http://www.minutemanhq.com/hq/
Simcox has troubled past: http://www.splcenter.org/news/…
Simcox and various political financial scandals: Minuteman money mystery, 2006 article by Bill Berkowitz of Media Transparency (very good Simcox link below)
http://www.mediatransparency.o…
Both Minutemen groups are associated with white supremist groups, such as the Council of Concerned Citizens, altho both deny it. The CCC has changed its name to the CCIR. http://www.ccir.net/

Basic information on the CCIR: http://www.splcenter.org/intel…

Some older backstory on the CCC link: http://www.adl.org/MWD/ccc.asp

The CCC is so secretive they will not publish a membership list and require referrals before they will send you information on their organization.

These racist organizations are NOT dead, they are alive. They peaked in popularity during the first term of the Bush administration, waned, and now with the uncertain economic fallout, they are regaining some steam. Barbara Coe, a member of the CCC, has been heavily involved recently in Minutemen border events in Southern California this summer, making appearances with politicians running for office. Coe is also a member of the CCIR, the CA Coalition for Immigration Reform.

The Orcinus blog did a very good write up of the history of the Minutemen groups and their split, and how they front for political consultants, on June 28, 2006. http://dneiwert.blogspot.com/2…

The Rift in the Minutemen
The Subway Canaries blog (now thepinkflamingo.org) did a write up of this relationship between the KKK and Immigration and the Minutemen groups in October, 2006, with a lot of links:

http://www.thepinkflamingo.org…
The Southern Poverty Law Center said in 2002, that most of the anti immigration "movement" is the result of work by John H Tanton, who founded, served on the boards, and funded many of them. http://www.splcenter.org/intel…
If you are going to read just one link in my post, read this one from the Southern Poverty Law Center, from summer 2002 Note the remarks from Brian Bilbray, who was to run again in 2006 in the San Diego area and narrowly win election to the current Congress. The article says that this network of anti immigration groups is not so much grassroots as astroturfing being done by John Tanton and Numbers USA. Richard Mellon Scaife family foundations has been funding these groups, along with the McConnell Foundation, the Shea Foundation, the Weeden, Salisbury, Smith Richardson, Blair, and Sikes foundations.

4 page story

http://www.splcenter.org/intel…

http://www.splcenter.org/intel…

http://www.splcenter.org/intel…

http://www.splcenter.org/intel…
"The Puppeteer

The organized anti-immigration 'movement,' increasingly in bed with racist hate groups, is dominated by one man, John Tanton."


The meeting with Tancredo and Bilbray – and the entire lobbying operation in mid-February – was masterminded by NumbersUSA, an anti-immigration group that had recently opened a "government relations office" in a three-story, red-brick Victorian near the Capitol.

NumbersUSA hosted an afternoon open house at its plush new digs, where the lobbyists relaxed, nibbled on catered food, and conversed with the leaders and other officials of key anti-immigration organizations.

Patrick McHugh of the Washington-based Center for Immigration Studies, which purports to be a squeaky clean think tank that rejects racism, was there pressing the flesh along with Barbara Coe, head of the California Coalition for Immigration Reform, who repeatedly referred to Mexicans – as she has for years – as "savages."

The Citizens Informer, a white supremacist tabloid put out by the Council of Conservative Citizens ( CCC ) hate group, was available.

Here is another overview with links of the Minutemen, from an Australian site:

http://www.nationmaster.com/en…
The interesting thing about THIS site is that it mentions Minuteman Bryan Barton and the 2005 T- shirt incident.


T-shirt incident

On April 6, 2005, three Minuteman Project volunteers convinced a 25-year-old illegal immigrant to hold a T-shirt and pose for a photograph and a video with one of the volunteers. The T-shirt, which was also worn by volunteer Bryan Barton, read "Bryan Barton caught me crossing the border and all I got was this lousy T-shirt".

Bryan Barton (link to one of his spoof sites http://www.votebarton.com/abou… ) claims to have a journalism certificate from the same school that graduated White House pool "Reporter" Jeff Gannon, the right wing "Leadership Institute. " Bryan Barton has a large body of past work available for viewing on the internet, some of which has content not suitable for family viewing, containing images that are disturbing in content, meant to defame individuals based on their race, sex, or religious creeds, or depicting scenes of past activities of the Bush administration which were inflammatory or disgusting from a human rights content. He claims it's humor. It's not. It's porn.
Tom McClintock, last month, used the same Bryan Barton as a spokesperson for the follow up Swiftboat "hanging effigy" advertisement they recorded in front of Charlie Brown's Campaign office building, whereby Byran Barton asked supposed passerby to look at pictures taken in 2005 at that anti war rally counterdemonstration, and asked them if a blurry picture of a man wearing a camo jacket over a tee shirt and jeans was the same as a man standing there in full military uniform. It was called "Charlie Brown Uniform Shuffle." Link from McClintock's campaign site:

http://www.tommcclintock.com/m…
So I'm looking at this advertisement posted on McClintock's front page of his campaign website for several days, knowing that "Bryan Barton of the Minutemen" is this paid Republican operative now working for McClintock, and I am waiting for somebody else to make the connection. Oh well. Here goes. One of McClintock's largest local donators, Fred Sacher, is involved with this Republican "journalism" school that has now given us both Jeff Gannon (of the Valerie Plame – Scooter Libby outing coverup ruse) and Bryan Barton. link to page which has clickable pdfs of the Leadership Institute's financial 990's that can be studied http://www.leadershipinstitute…
I guess we've just hit the Big Time here in Northern California. Back to the KKK ~~~
Here's a link page from a KKK member which is very interesting if you study his site http://kelticklankirk.com/amer…

Note the Minute Men symbolism used at the top of the page, see the various link names to these extremist groups with it or derivatives of it. The Minute Men symbol is also used by a lot of these white supremist organizations.

Warning. The home page on that KKK site manages to offend every thing. I found the co – opting and perversion of "Celtic" belief particularly vile and wish to state that Irish, Christian, Celt and Pagan ? does not equal Klan, and the use of these Celtic art symbols in this context, which have their own meanings, is really bizarre. http://kelticklankirk.com/

*

*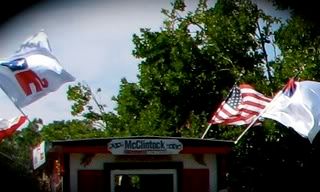 McClintock's float, the 4th of July parade in Lincoln, CA. Flags, Republican GOP, CA state Bear Flag, American Flag, "Christian" Flag.
The Christian Flag, the white one on the right hand side seen above, with the blue corner and red cross, is also used by the KKK in some parts of the country. Click here and scroll down to near the bottom to see an example: http://www.kelticklankirk.com/… Another flag similiar to it, a pure white flag with a small confederate canton and cross in the corner is also used. Click here for an example http://www.pbs.org/wgbh/roadsh… Notice how the Christian flag is flying same level with the other flags on this float. The CA Bear Flag is also used by Save Our State, another white supremist group. http://saveourstate.org/index.php That combined with the heavy symbolism of the Mexican – US War of 1846- 47 and Minutemen symbolism on the parade float (most people did not know what they were looking at, but the few who did, it provoked quite a visceral response ) really gave me a completely different outlook on the McClintock candidacy. Whoever put this together wanted it to be provocative and stir up certain feelings of pitting one group against another, based on race and ancestral nationality.
The City of Lincoln, before it underwent the explosive population growth in the past decade with the population nearly quadrupling, when the Del Webb retirement subdivisions went in, was more racially diverse and more laid – back and had a larger number of Latino Americans by percentage.
The Mexican American War ended up disenfranchising hundreds of Mexican citizens and Native Americans which were living in the southwestern territory that the United States ended up with, because they did not get legal citizenship as was originally implied by the preliminary treaty, which the Senate then modified afterwards. There was a lot of LDS symbolism on that float, such as the Wagon Wheel, that also commemorated the Mormon Battalion, which marched across country from the midwest all the way to the California Coast during the same war. The territorial gain by the United States was seen as another example of the righteousness of the theory of Manifest Destiny. The distinctive officer's uniform on one of the soldier figurines on the float was very similar to what would have been worn by General Winfield Scott, a famous general in that war. General Scott has another role in history, when in 1838 he also moved the Cherokee from their original homeland in Georgia to Oklahoma along the Trail of Tears. Before the move started, 4 thousand Cherokee would die in confinement. http://en.wikipedia.org/wiki/W…


Scott arrived at New Echota, Cherokee Nation on April 6, 1838, and immediately divided the Nation into three military districts. Within two weeks he had every Cherokee in North Georgia, Tennessee, and Alabama who could not escape to be captured or killed. The Cherokee were rounded up and held in rat-infested stockades with little food. Private John G. Burnett later wrote, "Future generations will read and condemn the act and I do hope posterity will remember that private soldiers like myself, and like the four Cherokees who were forced by General Scott to shoot an Indian Chief and his children, had to execute the orders of our superiors. We had no choice in the matter."[3][4]
So …. that was a very complex parade float.
Here's another detail from that 4th of July parade float: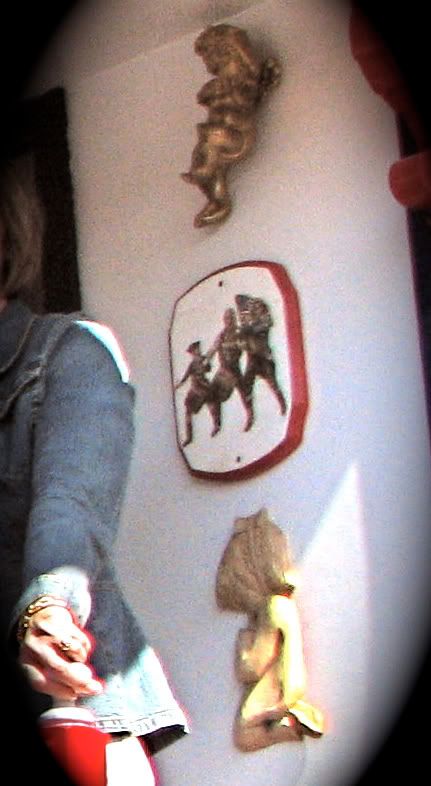 Detail, McClintock's 4th of July parade float, Lincoln CA. Minutemen plaque behind L M's shoulder.
Here's the whole float from a distance, I posted this pic before in another diary: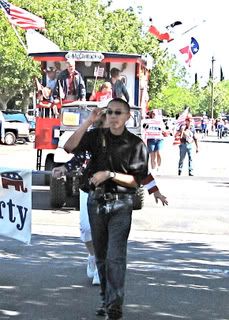 July 4 McClintock parade float
And if the casual viewer couldn't "get" the point that day in Lincoln, they had another person on a lawn tractor towing a big fiberglass trio of Minute Men figurines behind the parade float carrying the McClintocks.
I have also seen blatantly racist material at another Republican booth at a district public event, and in the window display of a district Republican headquarters building with both McClintock and John McCain signs in it. Once, it could be an anomaly. Repeatedly seeing it over and over again, it becomes a theme. The question became, for me personally, should I address this issue and let it distract from the real campaign issues, or should I just follow the money trails and see where the McClintock supporters are going with this, and will it bring them national level support?
Then, when Republican John McCain picked Alaskan Gov. Sarah Palin as his running mate, and I started seeing a lot of graphics of Palin with her high powered rifle, peering thru the scope, juxtaposed with pictures of our candidate Barack Obama, with the caption "She's a Better Shot than Cheney," I knew where the Republicans were going to take their campaign.
Damn, I'm old enough to remember the 1960's. Why are they deliberately doing this? Why is one of McClintock's local supporters repeatedly using a hanging effigy theme?
Just like in the July parade, Tom McClintock wanted to be provocative when he stood there on the State Capitol steps early last month (Sept 2) during the "Minutemen" rally and called for the Federal government to cut off funding for San Francisco. And for the Federal government to deport millions of people. There was a giant sign parked down on the road which says "Build the Wall, Deport them All," the loudspeakers are playing some sort of dreadful screed about how people of Native American Indigenous ancestry have to perform a blood sacrifice when they reach adulthood, and are secretly plotting to turn California and the American southwest back into the Aztec state, "Aztlan" (this is the same stuff I've seen on the Council of Concerned Citizens site ) and then the group of teenaged kids in white dress shirts and dress pants and some sort of red satin sashes show up with the big "Save Traditonal Marriage" Sign on the sidewalk. They hopped in a van and drove off when they realized they were being recorded for posterity.
It was pretty surrealistic.

Just another day at the California State Capitol, campaign 2008, McClintock version.
Here are 2 images from the Republican Booth at the Gold Country Fair in Auburn the first week in September on Saturday the 7th.

The first one shows the Christian flag flying over the booth just to the left of McClintock's name. The second is the closeup of one of the bumper stickers they had for sale, to the left of the man in the striped shirt. "Liberalism, the imaginary distance between church and state."
My ancestors are doing so many flips in their graves that this is what passes for political fodder in 2008 California, I half expect an earthquake.
I see there is some skepticism about the link between McClintock and these extremist groups concerning a "guilt by association" of an old endorsement by the KKK. Some people do not think this is relevant, others think it a distraction. So I'm posting my observations on this relationship, reluctantly, because I don't want to give Karl Rove the satisfaction of driving the dialogue here . But this subtext of forced removals of the "others," based on their supposed cultural inferiority, as being justified by a Higher Power, and therefore the Republican candidate is the "Right One" has been running all thru McClintock's campaign for CA- 04.
Mercifully, I see a lot of people in this district are finally starting to reject the use of these wedge issues. I would hope the national level Republican campaign, based on what I'm seeing at McCain's events, could come to grips with the fear issues and stop trying to scare people into voting for them.
But I also want to emphasize that we here in the district not imagining things when we say we see a relationship between the creed of the KKK and the campaign theme being used by McClintock. This side of the aisle is rejecting the use of fear to divide us and ostracize us from each other.