"Adequate control of human exposure would be difficult, if not impossible."

-CA Scientific Review Committee
This is the time of year many talk about United Farm Workers' founder Cesar Chavez. Cesar was many things, among them he was a strong voice on pesticides.
Cesar Chavez said, "In the old days, miners would carry birds with them to warn against poison gas. Hopefully, the birds would die before the miners. Farm workers are society's canaries. Farm workers-and their children-demonstrate the effects of pesticide poisoning before anyone else…There is no acceptable level of exposure to any chemical that causes cancer. There can be no toleration of any toxic that causes miscarriages, still births, and deformed babies."
As you celebrate his legacy, add your voice to continue Cesar's fight.
Cesar's UFW is currently working on a campaign that is critical for farm workers health and safety. We are working together with a coalition of environmental and farm worker groups to try to get the EPA to re-review the toxic pesticide methyl Iodide.
Science has proven that methyl iodide is a water contaminant, nervous system poison, thyroid toxicant and carcinogen. In other words, it's a toxic poison that should not be used near where people live.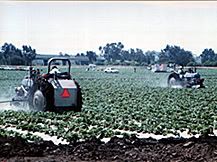 Despite this, the Bush Administration's EPA registered methyl iodide nationally in 2007–automatically permitting this toxin for use in a number of states. Other states like California have their own state regulations and are still deciding whether to allow it to be used.
However, there is finally hope to pull this toxic poison off the market. On September 25, 2009, U.S. EPA publicly agreed to reopen its decision on methyl iodide, pending results of the California Department of Pesticide's Scientific Review Committee, comprised of scientists from across the country.
The Panel's data is in.

Their report: this pesticide is toxic and harmful. "Adequate control of human exposure would be difficult, if not impossible."

In addition their report raised serious questions about the scientific accuracy of the federal review that was done under the Bush Administration.
Difficult if not impossible to control–yet this carcinogenic chemical is being used in North Carolina, Florida and fields across the country right now.
This has to stop. Help us hold EPA to their promise to follow the science on methyl iodide. Sign the petition today!